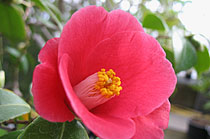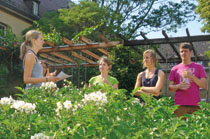 The Botanic Garden of the Johannes Gutenberg University is a research and education facility of the faculty of biology. Its aim is to represent a broad collection of plant diversity, to contribute to research on this diversity and its conservation, and to provide expertise on the value of biodiversity for our lives.
Thanks to the advantageous location in the mild and relatively dry climate of the surrounding wine-growing region many unusual plants that require a warmer environment can be grown outdoors in the JGU Botanic Garden over the whole year. To complement the reproduction of the

Mainz Sand Flora, in the last few years, a new section has been created that features plants from the steppe regions throughout Europe. Other high points of the collection include the families of flowering plants, the trees and shrubs of the temperate zone of the northern hemisphere, temperate plants from the Mediterranean climate zones and the southern hemisphere as well as tropical and subtropical agricultural crops.
Homepage of the

Botanic Garden.
Contact
Office of the Botanic Garden
Anselm-Franz-von-Bentzel-Weg 9 b
D-55128 Mainz
Telephone ++49(0)6131-39 22251
Telefax ++49(0)6131-39 23524


E-mail: Botanischer.Garten(at)uni-mainz.de